Now Available | SSV Works Performance Stereo Systems
UTVSource.com now offers the entire line of SSV Works Performance stereo systems from individual components to complete vehicle specific plug n play systems which are the most complete and easiest to install in the industry.
Everything in the SSV Works kit is ready to go from the box to your side by side, so you spend less time wrenching and more time riding. Simply plug it in, hook it up to the battery, pair your music and you're ready to hit the dirt in your Side by Side / UTV off road vehicle.
Everything you need in ONE BOX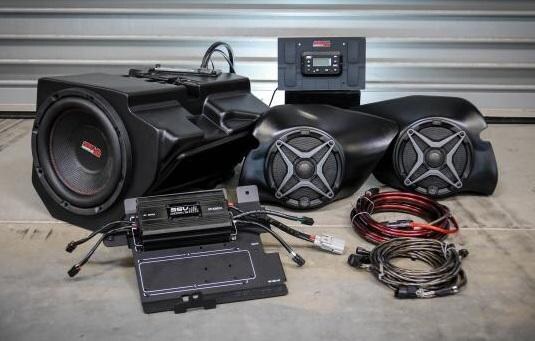 Take your ride to the next level and install an SSV Works system today! SSV Works provides off-road vehicle enthusiasts with audio systems and accessories that continuously exceed your expectations at the right price to bring your side-x-side the cleanest, loudest and most powerful powersports audio system available... plus, it's easy to install so you spend more time riding and less time wrenching.
Here are some features that you need to know about SSV Works sound systems.

Waterproof Rating of IPX6*
Withstands jets of water from any direction thanks to IPX6 waterproof compliance. As a result, the receiver can be safely used not only in cars, but also in other types of motor vehicles including marine and motorsports use.
*Equivalent to IEC standard publication 529 IPX6

Bluetooth® Ready
With Bluetooth, AM/FM and SiriusXM-Readiness, you can be sure you will always have your favorite tunes with you on the trail!

Rear View Camera Input Support
It is equipped with a rear-view camera input. With an optional camera connected, you have increased safety while driving UTVs or marine vessels.

Conformal Coating
A conformal coating is a protective chemical coating to safeguard electronic circuits from harsh environments that may contain moisture or chemical contaminants. It provides a barrier to airborne contaminants from the operating environment, such as salt-spray, thus preventing corrosion.
Learn more about how easy it is to install SSV works sound system: