When you drive your side by side, you come in contact with your steering wheel more than any other part on your ride with the exception of your seat. Upgrading your steering wheel will not only increase your driving confidence, but also your comfort and give a nice new look to the interior.
Assault Industries makes some of the highest quality side by side steering wheels on the market. They are constructed out of machined aluminum and come in a variety of shapes, colors, and materials to suit your specific driving style and needs.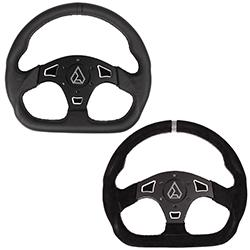 One of the most popular steering wheel options is the Ballistic Series Leather & Suede steering wheels. These UTV steering wheels have an iconic "D" shape to them. A lot of people love this design because it gives you a couple of different grip options when you're pushing your side by side to the limits. Not only does the "D" shape give you alternative grip options, but it also has a nice stitched in indicator at the top of the wheel to easily show when your steering wheel is straight.
The Ballistic Series wheels come in two different material options: leather and suede. These materials are all personal preference, but there are some pros and cons to each. The leather steering wheel is the more "rugged" of the two and can resist the elements better than the suede option can. The suede steering wheel is going to give you more grip than the leather option, but gets dirtier quicker, and can deteriorate quicker over extended periods of hard usage. Either Ballistic steering wheel options is going to be a significant upgrade from the stock steering wheel, but it's up to you to decide between the two materials.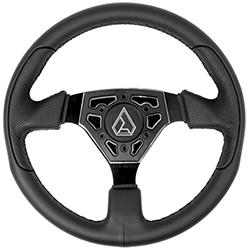 Next on the Assault Industries UTV steering wheel lineup is the Tomahawk V2 steering wheel. This steering wheel has the same machined aluminum construction as the Ballistic series steering wheels, but offers a more classic, close to stock, rounded design. A lot of people enjoy the round design of the stock wheel, but want a little more out of their steering wheel which is where the Tomahawk really comes into play. Like the Ballistic series, the Tomahawk comes in a variety of colors to suit your interior design needs. This wheel comes in a genuine leather finish and is contoured perfectly for ultimate side by side driving comfort.
The Tomahawk steering wheel is great for those drivers wanting the benefits of having an aftermarket steering wheel for their UTV without changing the overall shape of their wheel. An enhanced stock driving experience is sometimes the best option you can go with. Great looks, added strength and durability, and increased driving comfort and confidence.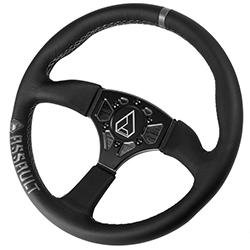 Last, but not least, is the new Assault Industries 350R steering wheel. This design closely resembles the design and construction of the Tomahawk V2 steering wheel, but is thicker and has a little bit more contour than the Tomahawk steering wheel. The new embroidered Assault logo looks absolutely killer on this wheel and is sure to stand out in your interior. This wheel also comes with a variety of color options to fit your interior needs.
If you plan on purchasing an Assault Steering wheel, you'll need to consider a few things...
You will need to purchase an Assault Steering Wheel Hub Adapter for your specific model.
It is highly recommended that you also consider an Assault Industries Steering Wheel Removal Tool to make your life easy when installing your new steering wheel.
Quick release options are available. You will need the hub adapter and the Quick Release Adapter for this to work correctly.
Assault Industries has set the standard for aftermarket side by side steering wheels. Take a look at all the options available and base your decision on what duits your driving needs the best! For more information on Assault steering wheels, click here.