Building UTVSource Official "Trial Runner"
One of our customers, Mike, brought us a brand new 2019 Can-Am Maverick X3 X RS with the idea of building his dream UTV; a side-by-side that you could throw into any environment or terrain, and could handle it all like a pro!
Whether he was out in the dunes in Glamis, or in the mountains on a trail, this side-by-side would have to not only perform, but survive any stress that was thrown at it.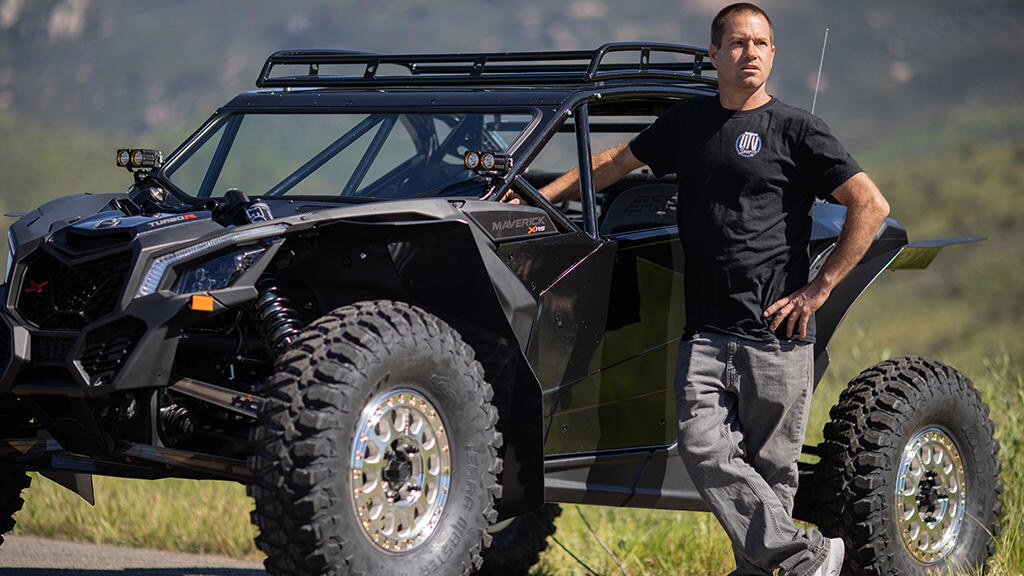 Getting Started - Suspension
The first thing we did was strip the car completely down so we could build it from scratch.
Right away, the first thing we knew we had to do was make this thing as beefy and indestructible as possible. We knew instantly that the HCR OEM Dualsport Suspension Kit was going to be the right move.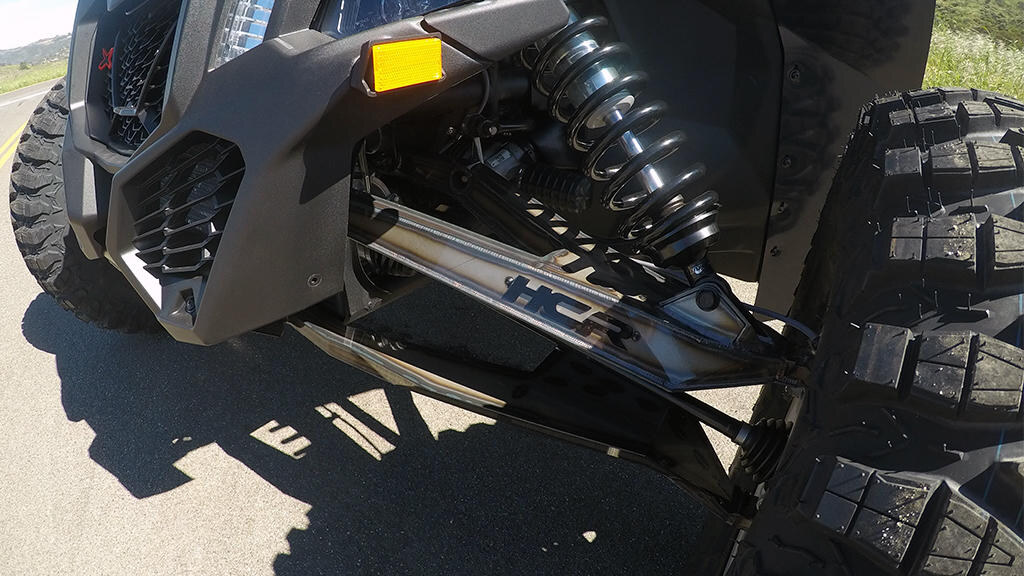 This kit is a direct suspension bolt-on kit that is laser cut, bent, TIG welded, and powder coated right here in the USA. They are built from HCR's proprietary Elite material that is 30% stronger than 4130 chromoly which means Mike should never have an issue with his A-arms or trailing arms ever.
Bumper Upgrades
Once we got the A-arms, and trailing arms figured out, we had to beef up the other suspension components so there was no weak points anywhere. As we stated before, this X3 had to be ready for ANYTHING Mike threw at it.
Starting at the front, we started off by adding a Geiser Chromoly Bulkhead. This not only strengthens the front suspension, but it also strengthens the overall chassis as a whole.
When you hit big whoops or take a nosedive, this puts a lot of stress on the front of your car, so this was the perfect upgrade to tie everything together in the front end.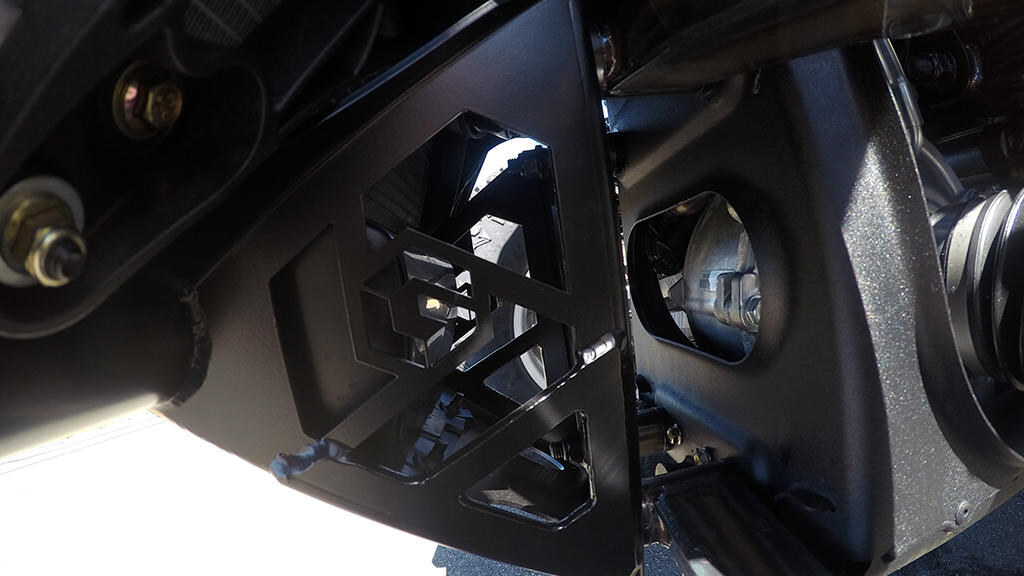 Shocks
In addition to the bulkhead on the front end, we added a ZRP Billet Shock Tower Brace. This brace is way stronger than the factory one and ensures that the shocks stay put under any sort of "bottom out" situation. We also added a set of ZRP's Desert Series Tie Rods for the ultimate steering setup!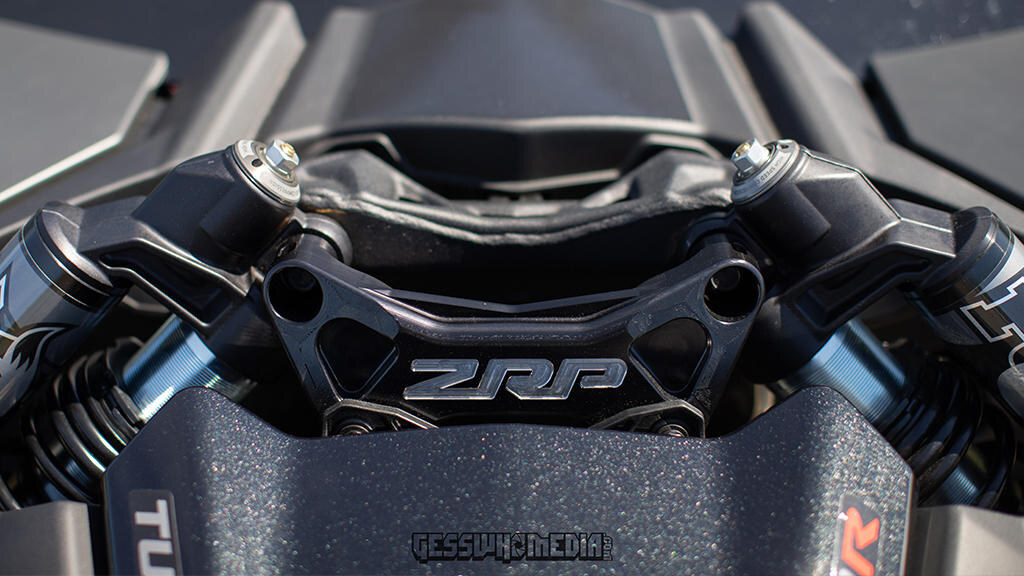 One of the weak points on any side-by-side is the radius rods. When you are jumping your car, hitting big whoops, and throw bigger tires on top of that, the factory radius rods are like toothpicks ready to snap at any moment.
We fitted Mike's UTV with a full set of ZRP's Billet Radius Rods taking care of that factory weak point on the rear end.
On top of that, we added a set of ZRP's Billet Trailing Arm Braces. These are a brand new innovative product that act as not only a brace and double shear for your trailing arms, but they also act as a rear chassis brace.
Now we have the entire suspension and chassis on this car completely built out to handle anything.
Wheels & Tires
Wheels and tires also played a huge part in this build. We had the challenge of finding the right setup for the variety of terrain this side-by-side was going to see. We decided on a set of the Method 401 beadlocks and 33" Kanati Terra Master tires.
These Kanati tires are perfect for this setup because they have two different tread patterns on the right and left sides of the tires. They give enough "scoop" to run in the sand (obviously not as good as paddles) and enough traction for the dirt!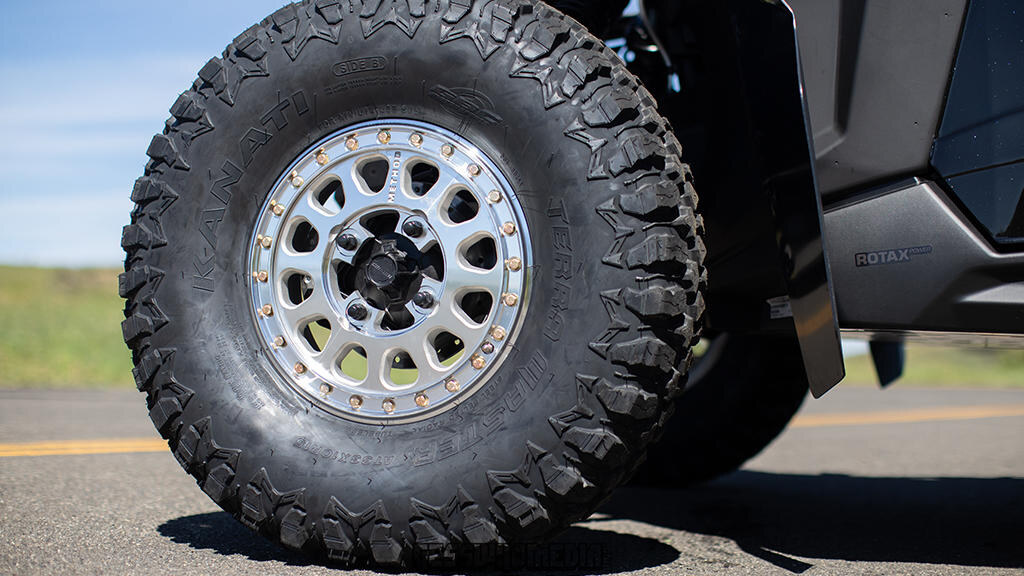 Exterior & Fenders
Moving on to the exterior accessories and lighting, we knew this UTV would see a lot of variety of terrain and would be run for extended periods of time. The last thing you want when running your side-by-side off-road hours on end is dirt, mud, and rocks flying inside your cockpit.
The Mud Busters XL Fenders were the perfect fit! These fenders keep most of the debris away from the driver and passenger and allow you to run longer and more comfortably.
Lighting Upgrades
In the event that Mike wanted to do some rock crawling, or even some trail riding at night, we added KC HiLites Cyclones under the fenders, and in the cab.
We didn't want the lighting too be too over the top, so we added a KC HiLites Flex Dual Pair Pack system on the A pillars. This pair pack system is plenty of light for any situation.
In the rear, we added a KC HiLites Rear LED Chase Bar which gives you that extra sense of security and safety even if you're not racing.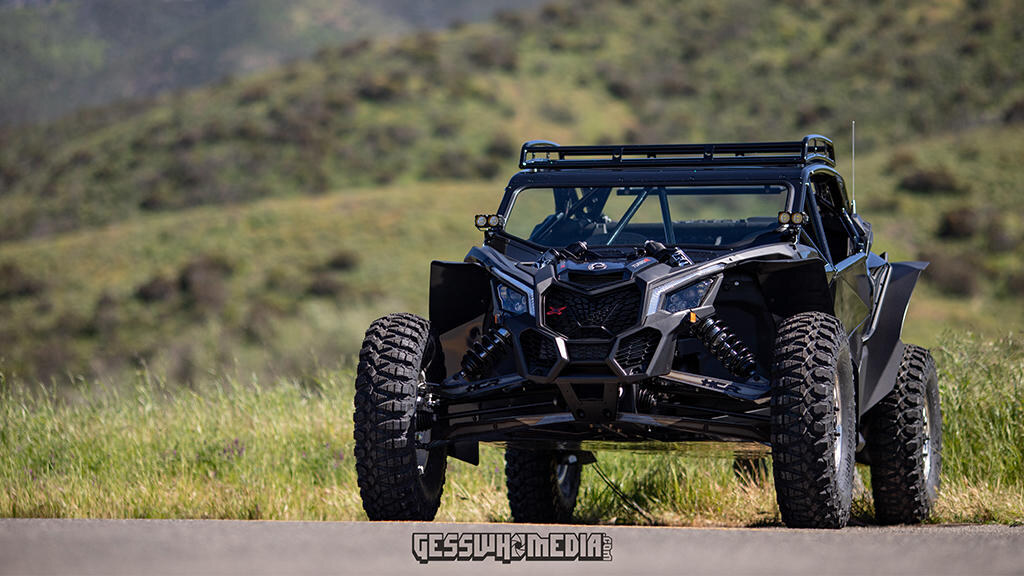 Speaking of safety, we wanted to make sure every single safety precaution was taken into account. In the event of something happening, we needed to make sure that everyone in the car would walk away from the accident. Side-by-sides can be replaced...people cannot.
Cage Upgrade
The cage we chose needed to be as strong, if not stronger than the chassis and suspension we put underneath it. We decided to go with a Fabwerx Baja Aggressor cage with a top rack and windshield option.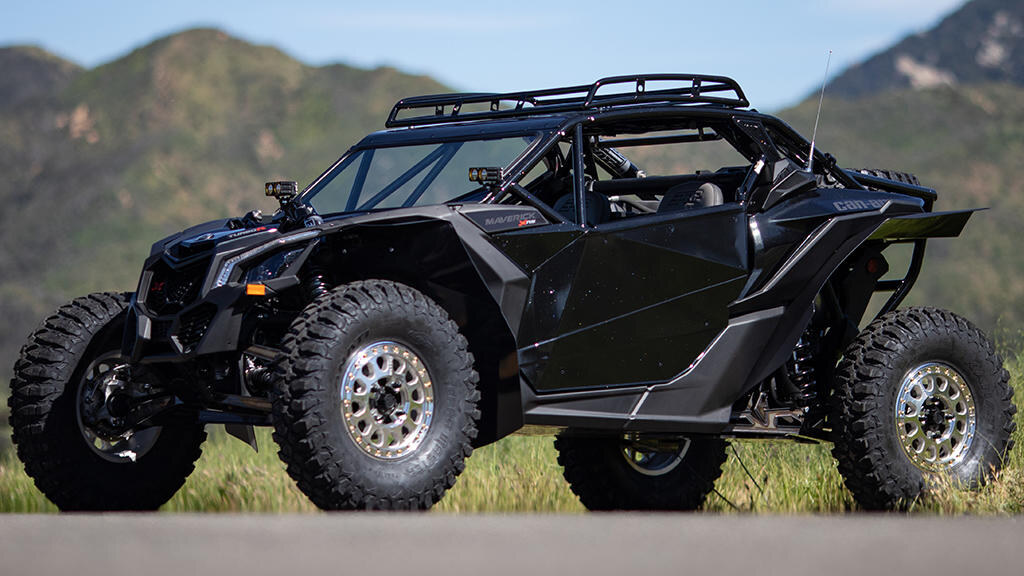 Fabwerx makes some of the highest quality cages on the market and with the doors, rack and windshield options, it tied the whole build together.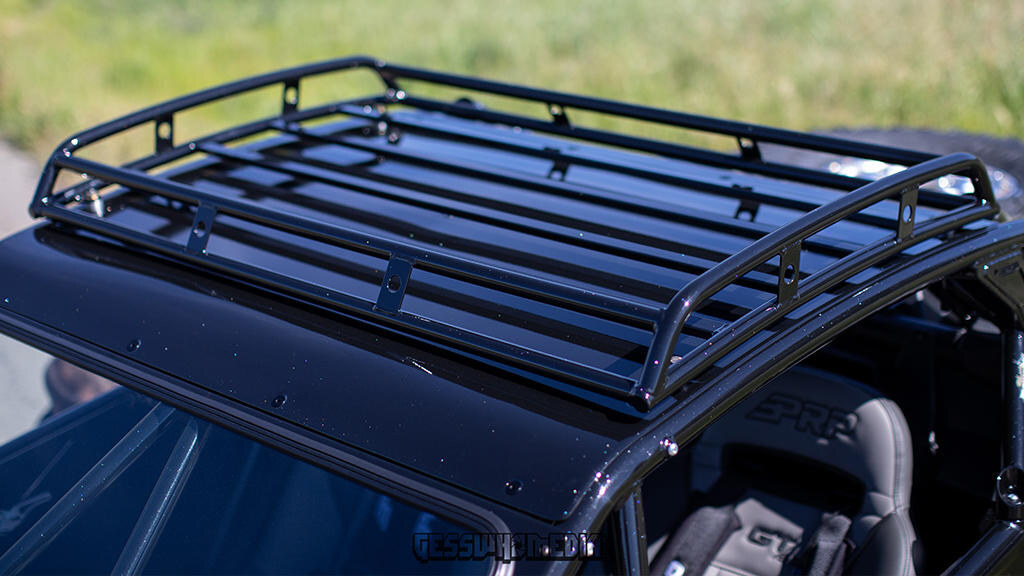 Seating & Interior UTV Mods
Having a strong and safe cage is amazing, but staying in your seat in the event of a rollover is a completely different story. The factory seats and seatbelts are honestly one of the biggest shockers on any side-by-side.
This is the very first thing we tell people to upgrade on their UTV. We went with custom designed PRP GT/S.E. seats with seat slammer kits, and PRP 4.3 harnesses. This seat/harness combo keeps you planted in your car, and safe in the event of a rollover.
Not only are these seats and harnesses going to keep Mike safe, but they are going to give him a lot more driving confidence as he can feel "one with his car" staying planted and focused on driving.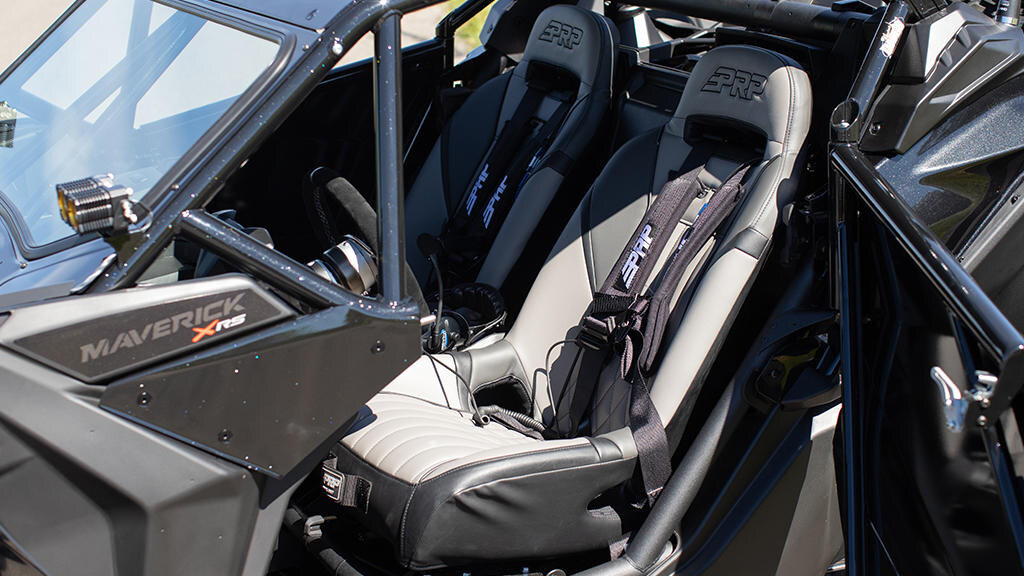 Staying on the interior, we also fitted it with an Assault Ballistic Suede Steering Wheel with hub and quick release as well as a Geiser Shift Knob and Grab Handle.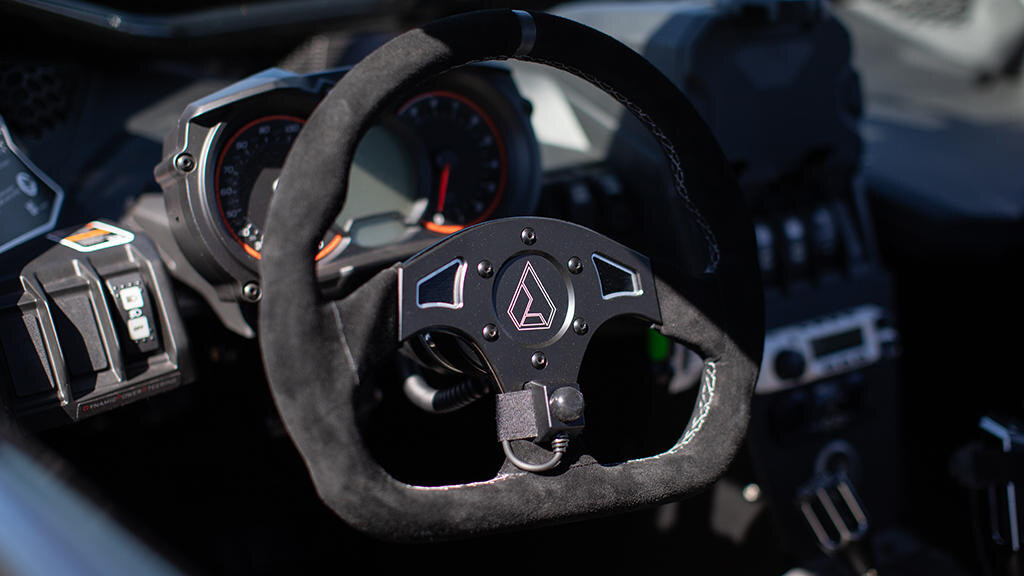 Mike had mentioned that he likes to ride with a group of friends, so to keep them in contact, we fitted the car with a Rugged Radios System. This system allows the driver to talk to his passenger as well as other cars on the same radio channel.
Performance & Wiring
Now that we've completed all the hard parts on the car, we wanted to squeeze some more performance out of it! We decided on an EVO "SHOCKER" Race Pipe and an EVO stage 3 tune.
The "shocker" race pipe has an electric cutout allowing you to keep the exhaust quiet with the stock exhaust or, with the flip of a switch, run it straight piped. Mike can keep it quiet on the trails or open it wide up when he's out ripping in the dunes.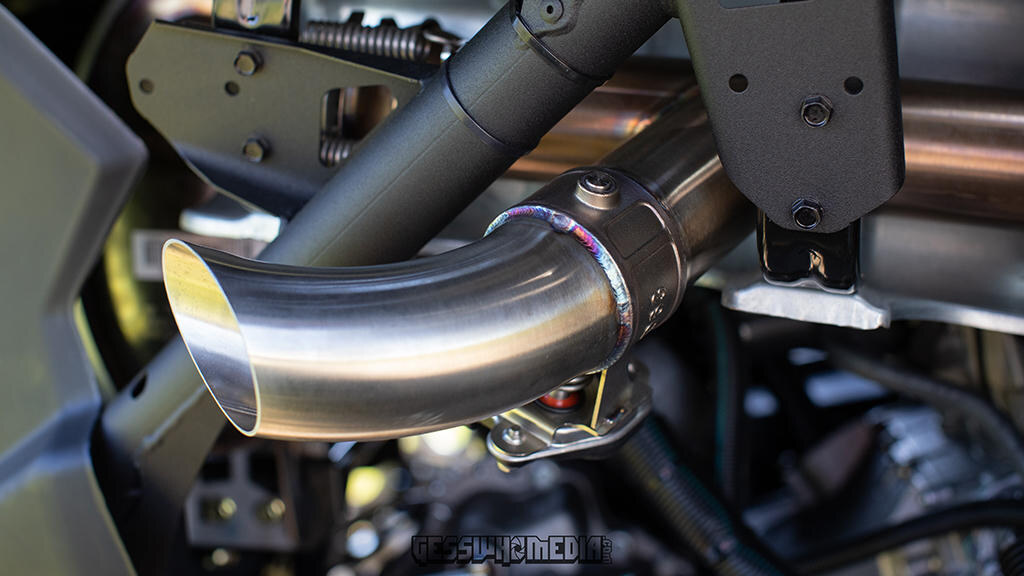 The final step in this build was to tie everything together with a professional wiring job from Hardwired Performance. We used a sPOD switch system to keep all of his lights in one spot and with the help of Hardwired, this car has one of the best wiring jobs on a UTV we've ever seen.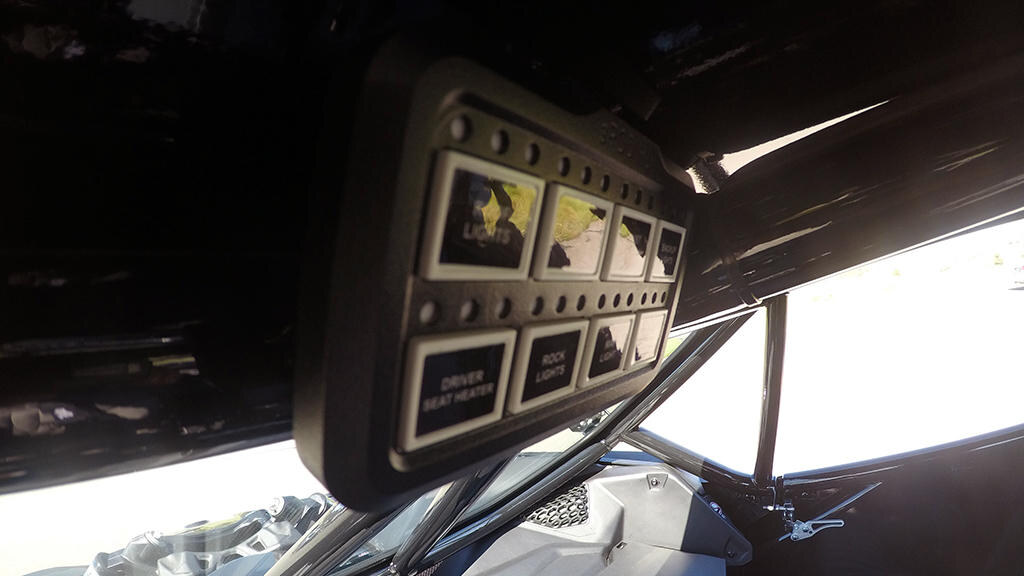 In Closing
Overall, we are extremely happy with how well this 2019 Can-Am Maverick X3 X RS build turned out. Every part used on this build is of the highest quality on the market and each part compliments each other perfectly.
It's so awesome to see how amazing these cars turn out when so many of the best company's parts are paired together!
Until next time...
Rick DeWeese - rick@utvsource.com
PS If you have any questions about this build or any of the parts used, contact Rick (build coordinator) at...