The most comprehensive Lightbar on the Market
KC Hilites Gravity LED Pro6 Lightbar is one of the most comprehensive light systems that you can get for your UTV... or any vehicle for that matter.
The modular build of this lightbar allows you to configure the lights to your specifications and add 10,000 style points to your UTV or towing vehicle. Let's deep dive into this Pro6.
Who is KC HiLites
A time and race tested industry leader
KC HiLites just celebrated being in business for 50 years. I'm not sure if you've ever owned a business or if your even 50 years old, but this is a true feat and speaks to the longevity and durability of KC as a company.
Unmatched 23 Year Warranty
One of the things we like so much about KC HiLites is their dedication to customer service. They stand behind their customers 100% and offer an industry leading 23 year warranty on their light systems.
Think about it... 22 years from now if you have issues with your lights you can call their team and have them serviced or replaced.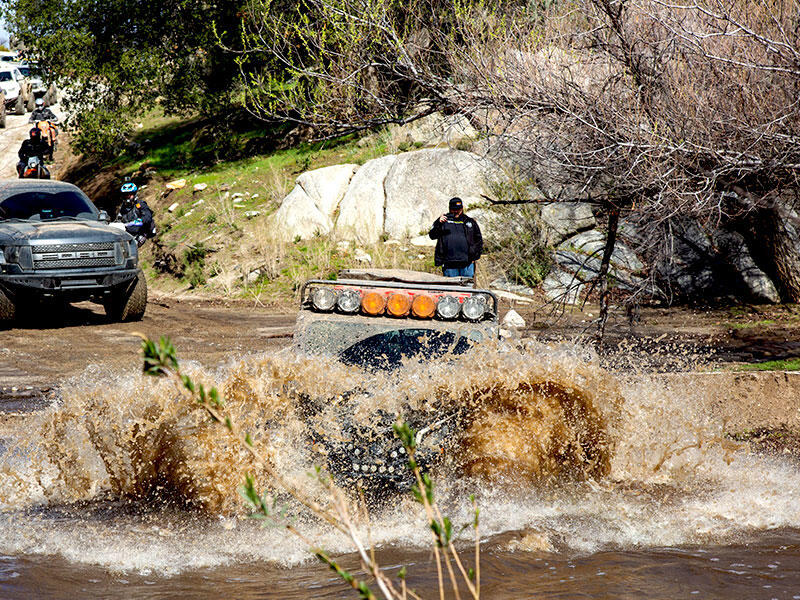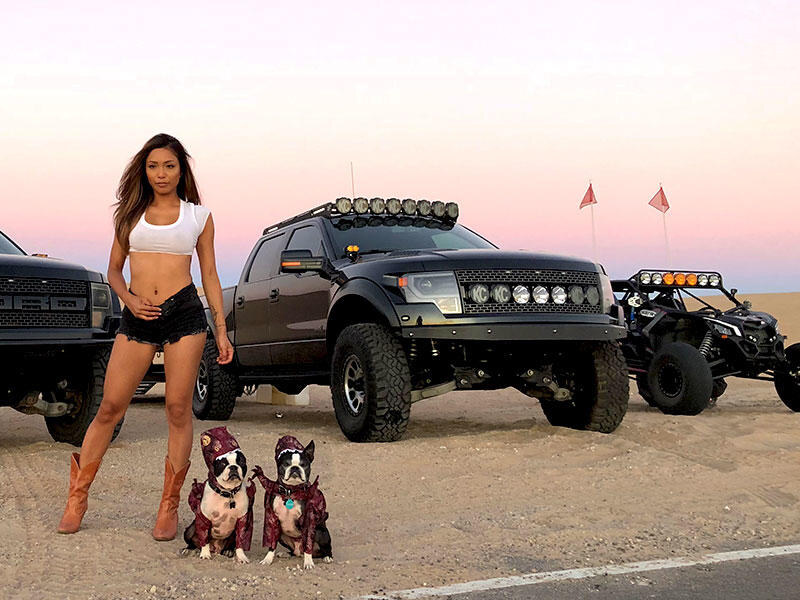 Pro6 Lightbar Build Quality
Materials
The build quality and materials used on the Pro6 are very very good.Everything is powder coated in black with solid build casing around the lights, which are crystal clear.
Even the wiring harness had a lot of thought put into it as it's very easy to use and plugs directly into your battery or pod system.
Features
Gravity Reflective Diode (GRD) Technology
This feature assures that emitted light output from each LED is being maximized in creating powerful, usable light for everyday off road use. Unlike traditional reflector designs, KC GRD technology strategically positions LEDs inside the reflector so that the all light output is being carefully directed and aimed to deliver usable light.
What you get is highly targeted light distribution, providing unparalleled clarity, performance, and beam shape.
Infinity Ring System
The Pro6 has a unique hinge and bolt set up around every ring that allows for endless configurations and adjustability. It creates a seamless transition between straight, radius, or hybrid orientations so you can angle lights exactly how you see fit or as your needs change over time.
Specifications & Features
Raw Lumens
20" = 2,794 lx
26" = 3,425 lx
32" = 4,200 lx
39" = 5,150 lx
45" = 6,100 lx
50" = 6,700 lx
57" = 7,500 lx
Lux @ 10 Meters
20" = 2,794 lx
26" = 3,425 lx
32" = 4,200 lx
39" = 5,150 lx
45" = 6,100 lx
50" = 6,700 lx
57" = 7,500 lx
Candela
20" = 279,400 cd
26" = 342,500 cd
32" = 420,000 cd
39" = 515,000 cd
49" = 610,000 cd
50" = 670,000 cd
57" = 750,000 cd
Beam Distance
20" = 1,057m
26" = 1,170m
32" = 1,296m
39" = 1,435m
45" = 1,562m
50" = 1,637m
57" = 1,732m
Wattage
20" = 60W
26" = 80W
32" = 100W
39" = 120W
45" = 140W
50" =160W
57" = 180W
Amp Draw: 5.0-14.67A
LED Source: Cree XPL HD LED
LED Color: 5000K
Voltage: 9-32V
20" 3-Light = H - 6.06" x D - 3.33" x W - 20.325" (Straight) / 20.301" (Curved)
26" 4-Light = H - 6.06" x D - 3.33" x W - 26.575" (Straight) / 26.556" (Curved)
32" 5-Light = H - 6.06" x D - 3.33" x W - 32.875" (Straight) / 32.708" (Curved)
39" 6-Light = H - 6.06" x D - 3.33" x W - 39.125" (Straight) / 38.871" (Curved)
45" 7-Light = H - 6.06" x D - 3.33" x W - 45.38" (Straight) / 44.999" (Curved)
50" 8-Light = H - 6.06" x D - 3.33" x W - 51.625" (Straight) / 51.086" (Curved)
57" 9-Light = H - 6.06" x D - 3.33" x W - 57.625" (Straight) / 57.128" (Curved)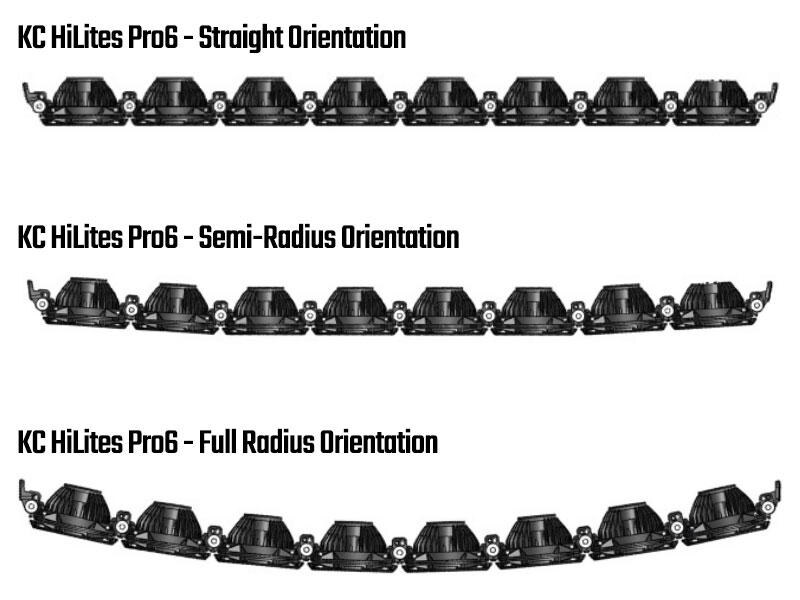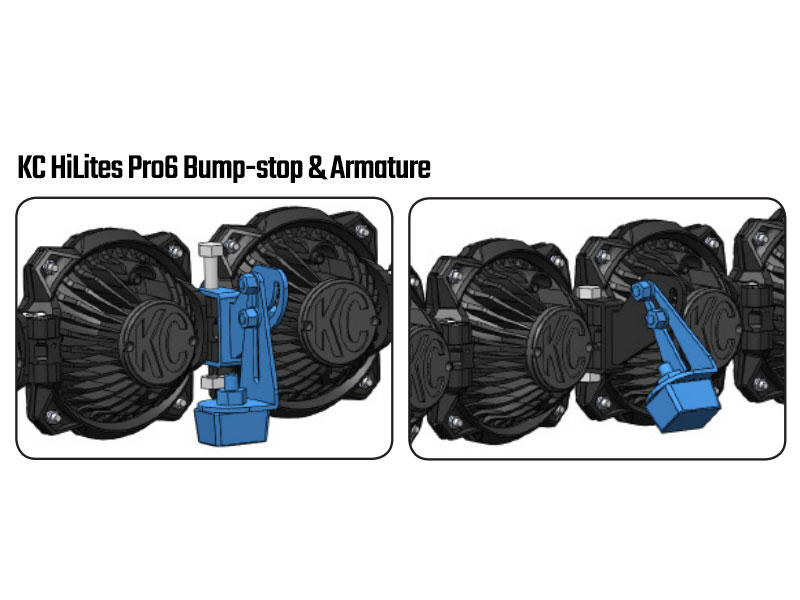 (The Pro6 is availiabe in different lengths and ring sizes, we are primarly focused on the 7 and 8-ring in this article)
Pro6 Installation
Easy to install, fits any vehicle
KC HiLites gives you everything you need.
From moutning hardware, the wiring harness, install instructions, and even light covers. It's very simple to take on and off and reconfigure the orientation. Out of the box you'll have everything you need to mount it to your car and plug it into your battery or pod system.
Vehicle Fitment
Fits Everything... Jeeps, Tacomas, RZRs, Can-Ams, YXZs, Raptors... You name it and you can fit a KC HiLites Pro6 Light Bar system on that vehicle.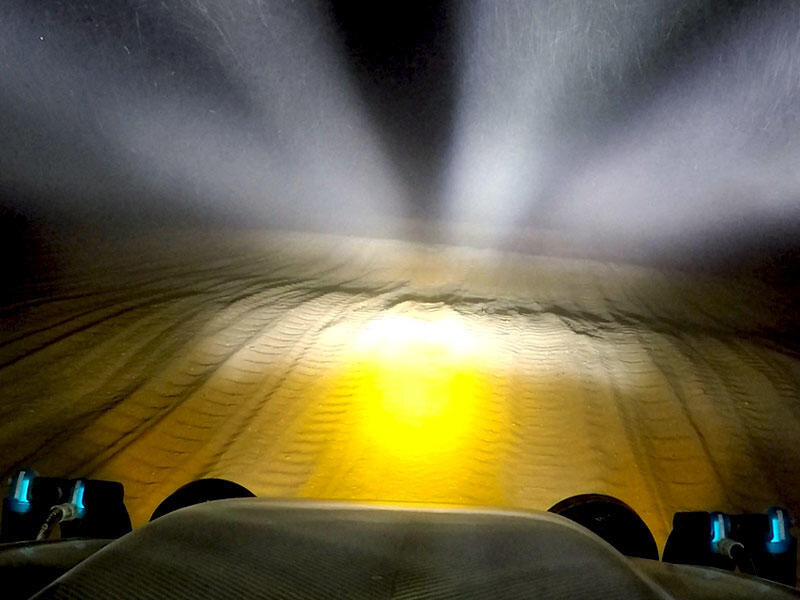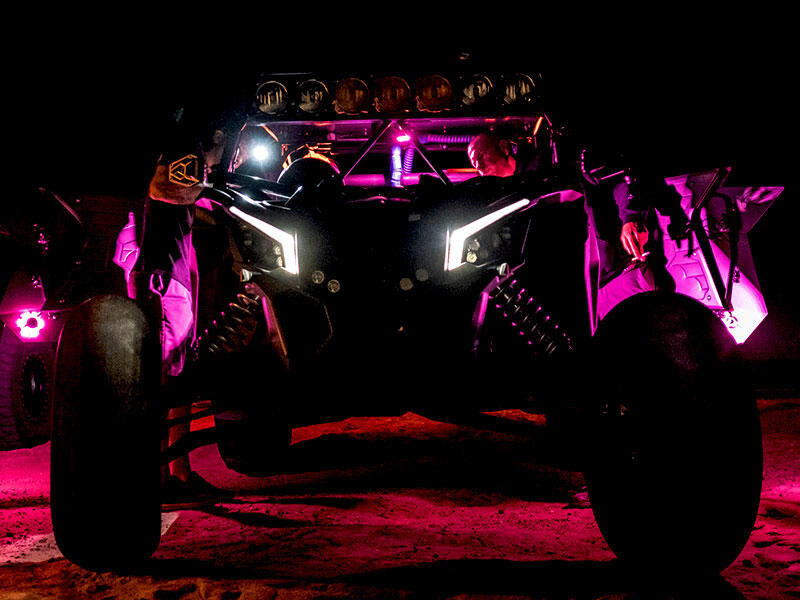 Things to consider before buying KCHiLites Pro6 Lightbar
Summer Time
Good for night runs when it's hot out. Adding a light bar system to your vehicle let's you escape the heat and run the trails when it's cooler and darker.
Adapts as your needs change
The 4 center lights are spot lights, the 2 on the each side are flood lights but like we mentioned before it's a modular system so the lights can be individually interchanged to fit your needs over time.
Street Legal
Lighting covers are important especially when you consider street legal vehicles. These are super easy to pop on and off when your ready for light use or done with your run and back on the street.
Pair with other lights
This one light system may not be enough lights as the focus of htis light bar is distance lighting, you may want to pair this setup with a few other lights for close range illumination.