As we all know, tuning your side-by-side voids your factory warranty. You can get some great performance from it, but most people just don't want to take the risk.
Here's where the all new Pedal Commander Throttle Response Controllers come into play. The controllers are plug and play and connect directly into your throttle pedal harness. This is NOT an ECU tune so it's 50 states legal and does not void your factory warranty!
The Pedal Commander gives you 4 different performance modes and 8 power levels per mode giving you a total of 32 options to hand tailor to your driving preference. If you want to squeeze every last bit of performance out of your car without voiding your warranty, this unit is the way to go!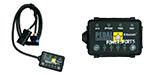 The Pedal Commander for Polaris RZRs fits all RZR models 2014 and up. If you have a 2014+ Polaris RZR this is a must have upgrade to your rig.
The Pedal Commander for Can-Ams fits many of the models including Maverick, Maverick X3, and Commander models.