UTVSource.com now offers the entire line of UTV accessories from Powertank!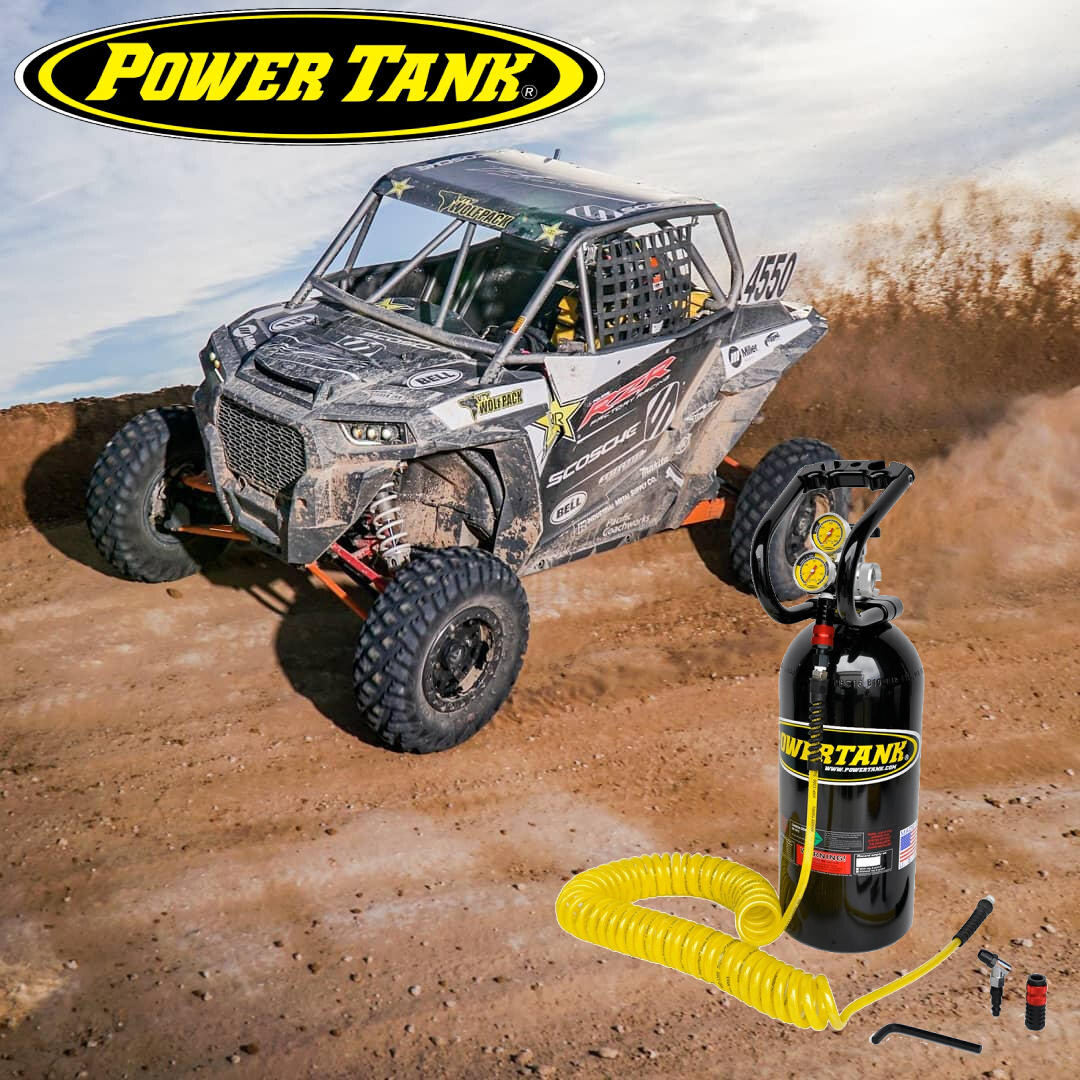 Over more than 20 years, Steve has been building and improving that original concept and here they are today. Power Tank now has a full catalog of air systems and accessories to support a variety of industries such as Construction, Motor Homes, Sand Sports, Towing, Desert Racing and more. At the heart of every Power Tank system is a regulator sporting SuperFlow™ technology designed to provide super high flow rates of CO2 vapor without "freeze clogging", the number one problem with other high pressure CO2 regulators, or self-destructing due to sub-freezing temperatures subjected to internal components. It is the only air system with a limited lifetime warranty.
Power Tank's main focus is still in the off-road market but Power Tanks can now be found around the world in the UK military, municipalities using them to test remote pipe lines, all manner of race teams, the US Forest Service, agricultural tractors, and even on the Discoverer-Enterprise deep sea vessel!
With the power of CO2 you can air up faster, re-seat bigger tires (tested up to 46 in.) safely, and run air tools at full power.
Regulators, adjustable regulator designed to maximize output pressure and flow rate simultaneously. Power Tanks boast a 45 cfm flow rate compared to the 5-6 cfm found in high-end 12v compressors. All Power Tank regulators are guaranteed to never freeze clog and are backed with a limited lifetime warranty. This is the only portable air system that will outlive the vehicle it's mounted to.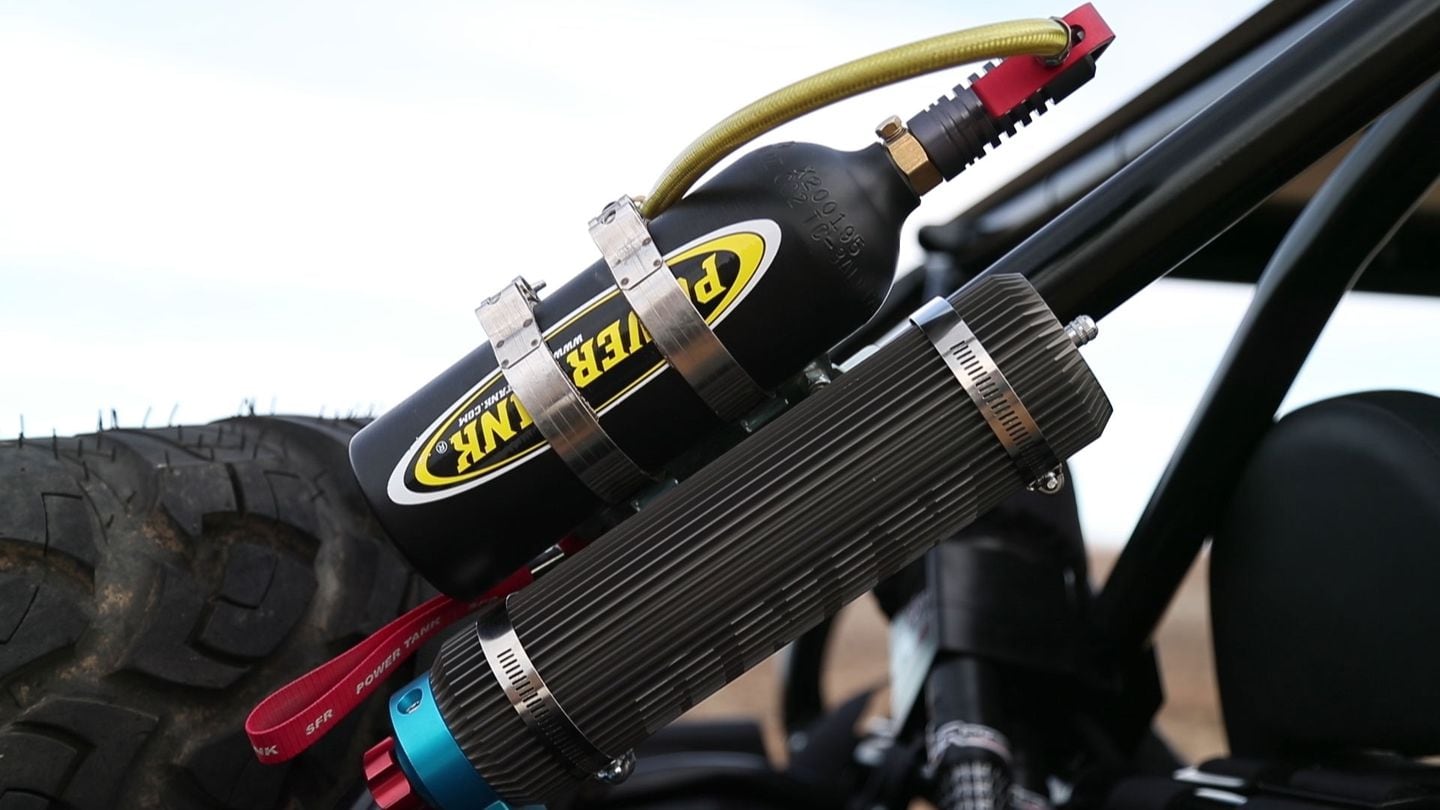 This incredible system mounts your Power Tank in less than 15 min. using basic hand tools. The best part? This self-contained, compact system is portable and easily removed from the bracket to walk it down the trail to recover a vehicle or do some work around the house.
You can get easily Power Tanks @ UTVSource.com
Don't know how to use Power Tank to inflate tires? Power Tank got you covered check out the video below how easy it is to use Power Tank.
In this video they show you how to use a Track Pack Power Tank to inflate an Airstream trailer tire but the process is the same regardless of the Power Tank system you have or the type of tire you are filling.
The Track Pack Power Tank comes with a padded case instead of a hard-mount bracket. This is great for RVers and campers who may not have a place to mount permanently mount a Power Tank but they have plenty of storage with the rest of their luggage. It is also great for race teams because the additional handles and carry points increase the portability of the Power Tank, making it super easy to move it around in the pits.
Power Tank has all the accessories you need here are some few accessories you can get.
Power Tank makes a full line of brackets for a variety of uses from off road to marine use and everything in between. Most of our brackets feature aluminum construction with stainless steel hardware ensuring strength and durability while keeping weight low. Not only do Power Tank make brackets for CO2 cylinders but they also have a line of propane brackets that are great for boats, overland trailers, and more.
All brackets can be easily mounted to any flat surface or mounted to a roll bar with our roll bar clamps. The floor bracket keeps your Power Tank low to the ground to prevent knock-overs while using it away from your vehicle and comes with an optional base mount to lock it up when not in use.
Check out some Power Tanks with Brackets @ UTVSource.com
If you are not sure what to buy and need help don't hesitate to contact our team at UTVsource.com and we will guide you to what is best for use with your UTV Side by Side