It's no surprise that RIGID Industries has been the industry leading off-road light provider for many years and has brought us some insane game-changing LED technology. One of the most amazing things about RIGID is that no matter what you drive, or what the application is, Rigid has a lighting set up for you...PERIOD. Out of the many light bar and lens setups you can choose from, there is a setup for your ride.
If you're thinking about purchasing RIGID lighting, the first thing you need to do is determine what lens style fits your driving style and what you're going to be using your vehicle for. Refer to the chart below to determine what optic you need to go with...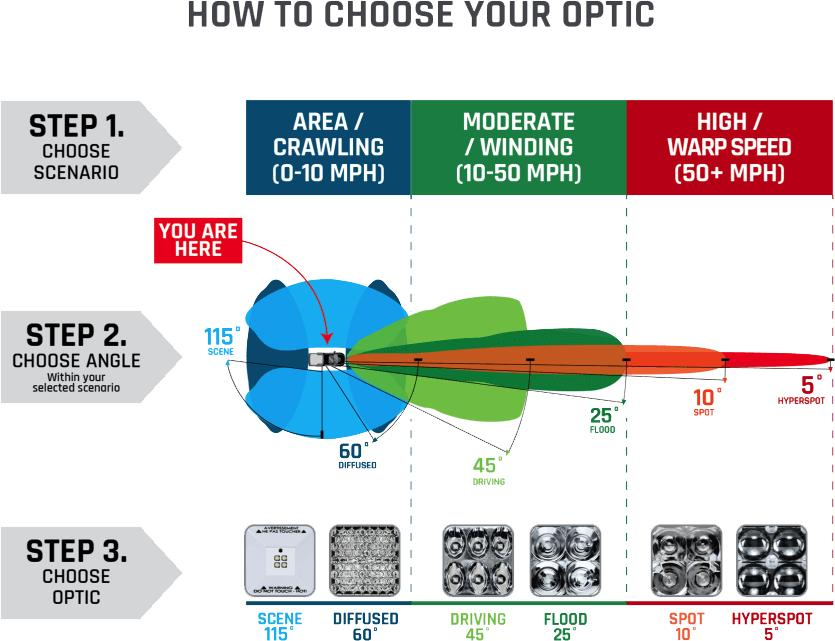 The RIGID D-Series lights are some of the most popular lights in the side by side and UTV market simply because there are so many places you can put them. The D-Series pods can be used as pillar lights, bumper lights, reverse lights, and many more. The most popular pot for them is probably on the A-pillars to give you a little more lighting on the sides of your UTV where your headlights can't reach.

RIGID changed the game with their popular E-Series light bars.The E-Series is one of RIGID's most versatile, all-around lighting solutions, and recent enhancements in LED technology delivering up to 111% more raw lumens than ever before with the E-Series PRO. Among RIGID's most popular product lines, the E-Series PRO has recently benefited from several upgrades to improve both looks and performance. Plus, new branding and new blacked-out circuit boards give the E-Series PRO a more refined look. Available with your choice of optics, the E-Series features a host of beam options, including Spot, Flood, Driving, Hyperspot, Diffused, and new Driving/Spot and Spot/Hyperspot combinations. These and other innovations make it one of the brightest and most efficient LED light bars on the market. The E-Series was born in off-road, but its versatility makes it well suited for use with power sports, marine, general automotive and even first responder applications.

The all-new RIGID Industries' Radiance Pod is the perfect solution for those who want RIGID's legendary quality at a level everyone can attain. The Radiance Pod is built with the same high-grade aluminum alloy housing as our legendary D-Series, but that's where the visual similarities end. Inside, the RIGID Industries' Radiance Pod is feature-packed, with a black exposed printed circuit board, forward projecting optics that optimize the light output and back-lighting available in white, green, amber, blue and red. The RIGID Industries' Radiance Pod is for the customer who wants a truly custom look that only Rigid can provide.

It's all about stealth with RIGID's new Midnight Optics. Utilizing our exclusive Hybrid Spot Optic with a translucent black enamel coating, our Midnight Optics take the subtle "blacked out" look seriously featuring black oxide hardware, to dark grey screen-printed and black embossed logos on the bezel. Midnight Optics enable RIGID to "disappear" during the day while still providing powerful LED technology to light up the night. Thanks to improved LED technology, the Midnight Edition PRO now offers more light output than ever before. Midnight Optics are available in E-Series,RDS-Series, SR-Series, and D-Series product lines.