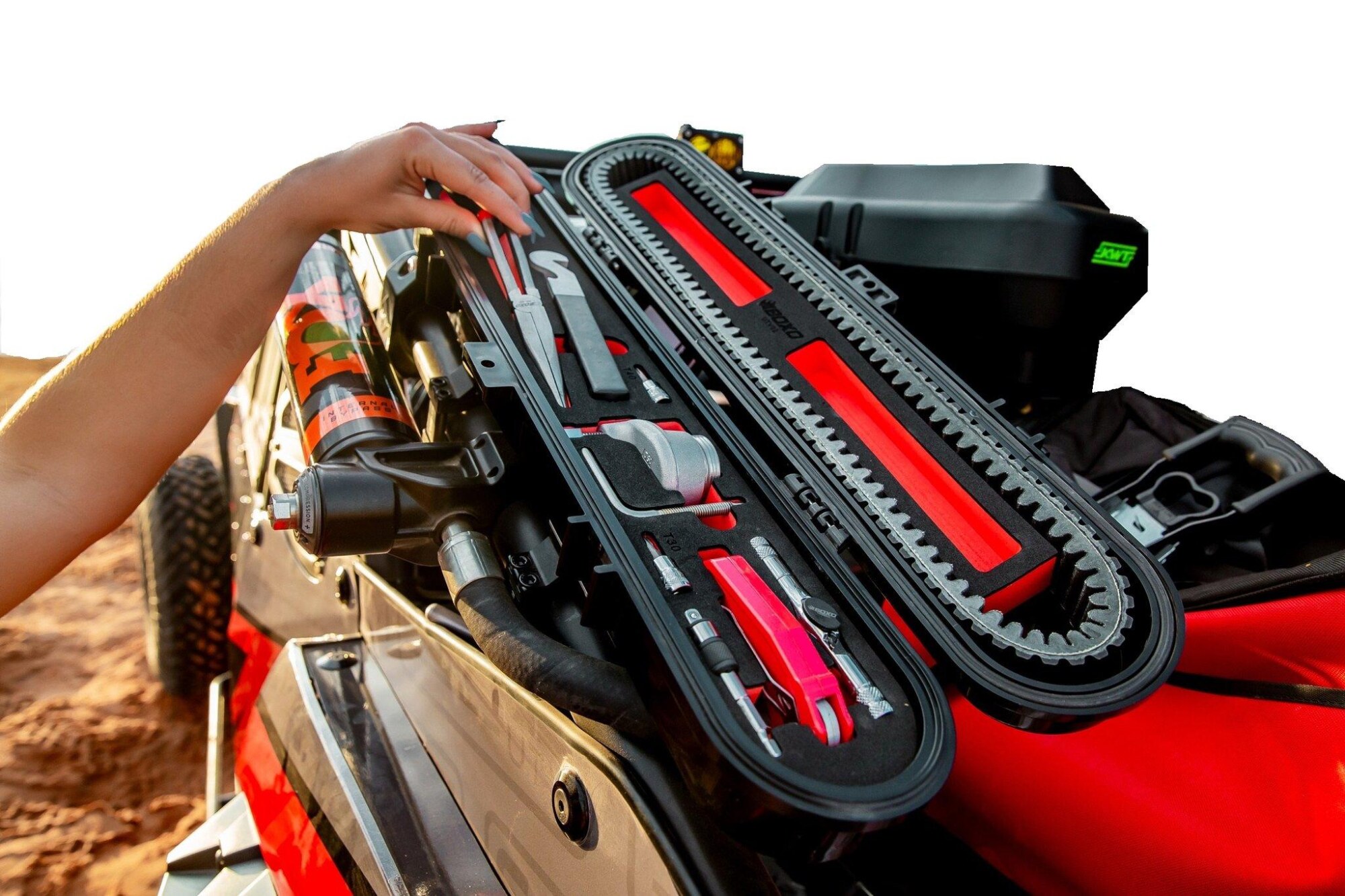 Over the past few years Savage UTV has become the industry leader in vehicle-mounted weatherproof cases for OE replacement belts that power the most popular SxS models out on the trail today. Not only have they perfected a product that stores UTV belts in a safe and protected manner, but they have continued to develop new items that add function and improved utility to your vehicle.
Storing your UTV belt in an environment where it is exposed to damage, dust, debris, moisture, and/or UV rays will shorten the life of the belt and can lead to premature failure. Most UTV belts are made of a natural rubber compound that will absorb small particles from its environment into the pores of the compound, negatively impacting the coefficient of friction and heat capacity of the belt. Preventing your spares from being exposed to these conditions is ideal in making sure your ride lasts as long as you want it to!
If you own a belt driven UTV, you need to carry a spare belt. It's only a matter of time until you will be changing it out on the side of a trail, dune, or maybe in the middle of nowhere. Make sure you have everything you need and more with the Classic Tool Kit or the all new Savage UTV x Boxo Tools Kit collaboration! And for the ultimate in off-road preparedness and safety, be sure to check out the life-saving First Aid Kit...
Savage UTV Tool Kit Includes:
Savage UTV Case with mounting hardware
11" Needle Nose Pliers
Cutting Tool
Ratcheting screwdriver with 8mm, 10mm sockets
Open space in the foam for you to add OEM-specific belt change tool
---
Savage UTV BOXO Tool Case Includes:
Savage UTV Case, including mounting hardware
11" Needle Nose Pliers
Cutting Tool
Ratcheting Screwdriver with 8mm, 10mm and 13mm sockets
T30 and T40 Torx Bits
Magnetic hardware tray
---
Savage UTV First Aid Kit Contains:
Savage UTV Case and mounting brackets, Nylon pouch,
Tourniquet with instructions
(10) Fabric bandages
(6) Antiseptic towelettes
(4) Nitrile gloves
(4) Sterile gauze pads
Triple antibiotic ointment
Steri-strips
Emergency survival blanket
Ace wrap
Triangle shoulder bandage
Multi-trauma dressing
Kerlix wrap
Burn gel
First aid/CPR guide
Trauma Shears