For over 50 years the KC brand has been a symbol of quality and performance with some iconic products brought to the market, and the KC Flex ERA 3 continues that tradition. This little guy is designed to be small enough to fit into tight spaces or to be used for a low-profile solution, with a 40 Watt LED output that rivals that of many larger lights out there. A built-in amber backlight feature also adds to the utility of this product by doubling as a marker or running light.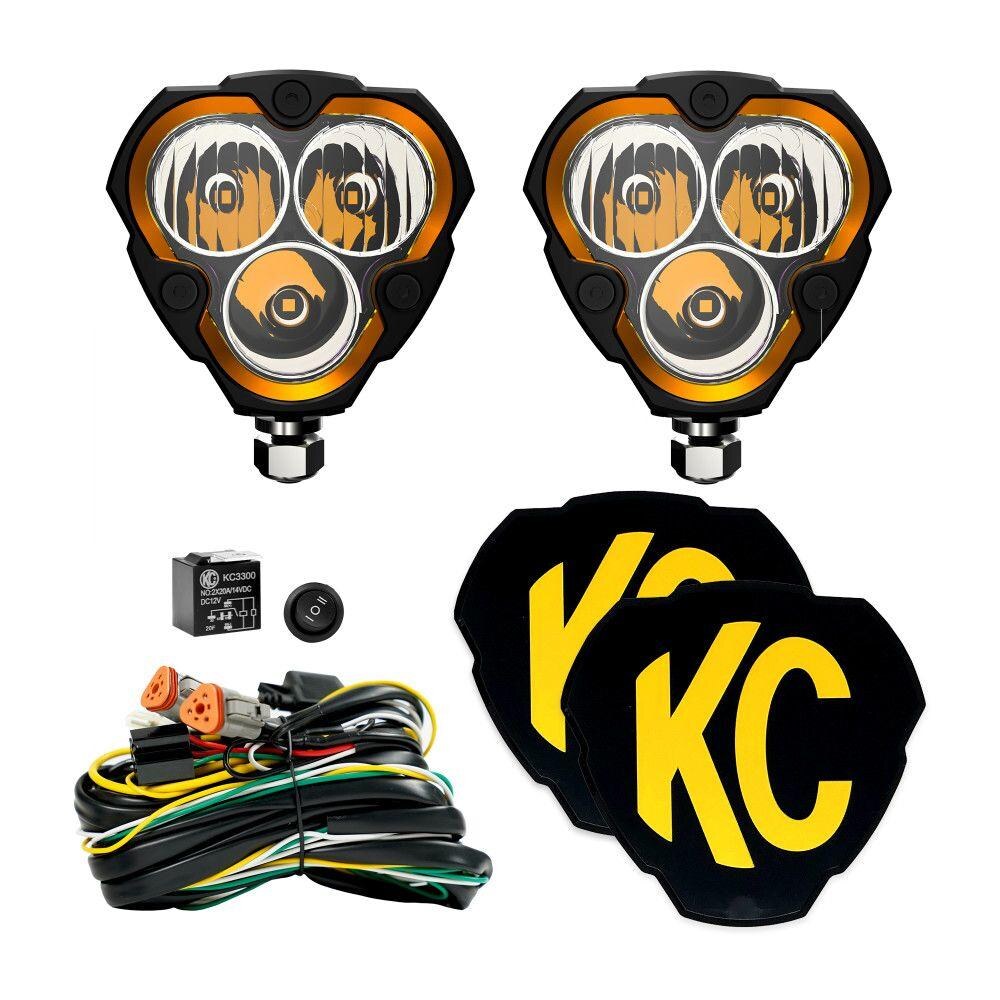 The Flex ERA 3 is offered in both a spot and a spot/flood combo with a modular design allows lenses to be swapped to convert your optics down the road if you'd like. That same modular feature is carried onto other parts of the FE3 with clip-on shields and a selection of replaceable bezels. This provides the ability to transform your Flex ERA 3's into dust-cutting amber lights on the fly while also dialing in the look of your setup with a custom color scheme of red, blue, or black bezels.
Getting into the performance details of the KC Hilites Flex ERA 3 this light puts out a total of 3,672 lumens in a 5000K color temperature for bright & natural lighting. Depending on whether the spot or combo lens is installed this translates to an 800 LUX rating and a 300 LUX rating respectively. In the field, this means you're putting out a beam distance of over 600 meters for spot and about 385 meters for the spot/flood combo. This basically means that the sport option is going to give you precise light that travels far in front of your vehicle, while the combo option is going to provide more diffused "fill" lighting across a much broader peripheral area.

You can purchase these lights individually or in a pair. The box will includes your light(s) as well as the KC branded covers, a wiring harness, relay & fuses, a switch to control the lights, and of course a set of instructions to help you with the install. KC offers sold-separately items like amber & clear covers as well as different color bezels to bring a custom touch to your build's lighting package.
That's about it for our look at the KC Hilites Flex Era 3, so be sure to add a set to your cart today! Browse our store for a wide variety of mounting and wiring options to compliment your new lights, and be sure to double check details like your roll cage diameter and accessory-control needs before finalizing your order. Our customer service team is standing by to help you with any questions you may have, so don't hesitate to reach out!
Once again thank you for taking the time to watch this video, be sure to LIKE and SUBSCRIBE to our channel, and most importantly always remember…Life's a Ride, Make It Your Own at UTV Source.com!
➤Shop KC Hilites: http://bit.ly/2Iyxp0Y