If you haven't heard of Zollinger Racing Products (ZRP) by now, they make some of the highest quality parts and accessories for side by sides on the market today. ZRP is constantly innovating producing parts that improve the strength and performance of your Can-Am Maverick X3 from their Billet Radius Rods to even their Billet Fuel Rail.
ZRP's newest product the Can-Am Maverick X3 Radius Rod Bones set is an absolute must have if you plan on pushing your X3 side by side to the limit. The set is made from the highest quality CNC machined 17-4 heat treated stainless steel and made right here in the USA.
One of the weak points on all side by sides, and the Can-Am Maverick X3 in particular, is the rear end. When pushing your UTV to the limit, your X3's rear end can develop a "slop". This "slop" can contribute to you having issues later on in the future. To get rid of the "slop", the ZRP Dog Bones act as a rear bulkhead gusset as well as misalignment spacers. This setup absolutely beefs up the rear end of your Can-Am X3.
You spent a lot of money on your side by side, so spending the money now on a set of these ZRP Dog Bones and protecting your investment is highly recommended.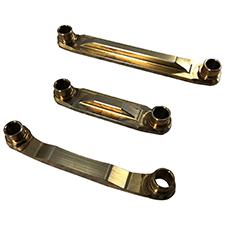 To learn more, check out the ZRP Can-Am Maverick X3 Radius Rod Dog Bones Set!
Check out Zollinger Racing Products full product line!